General Overview
Nestled in the gently rolling hills of Western Pennsylvania, Punxsutawney is approximately 90 miles northeast of Pittsburgh and 100 miles south of Erie, accessible via Interstate 80, U.S.Route 119 and State Route 36. The borough, which is located in Jefferson County, is home to approximately 6,200 residents and one famous  groundhog. Approximately 10,500 people live in the surrounding townships.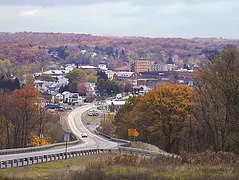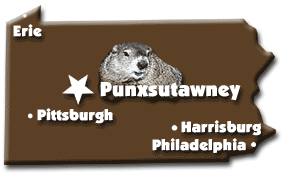 History
Punxsutawney was originally a Native American campsite halfway between the Allegheny and Susquehanna rivers. It is located on the earliest known trail to the east, the Shamokin path. Route 119 north of Punxsutawney follows a portion of this path. The area was, at times, occupied by Shawnee or Delaware people and sometimes by Senecas or Iroquois.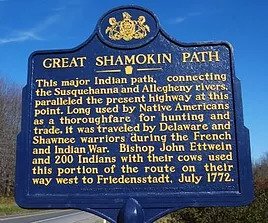 What Does Punxsutawney Mean?
The name of the town was derived from the Native American word for sand flies, a gnat-like insect that was abundant in the area. The name "town of the ponkies" became Punxsutawney.
By the late 1790s, the first white settlers came to the area now known as Jefferson County. Jacob Hoover was the first settler in the Punxsutawney area, building the first log cabin and probably the first grist mill in 1814. The Reverend David Barclay came to the area in 1816 and is considered the founder of the town.
In 1850 Punxsutawney was officially incorporated as a borough. For more information on Punxsutawney history or for help with genealogy, visit www.punxsyhistory.org.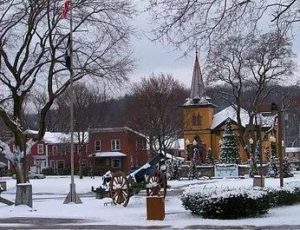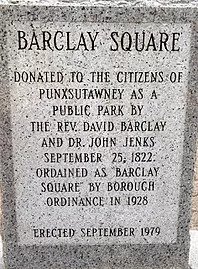 Quality of Life
As a whole, the community is quiet, friendly, safe, and giving. Summer evenings will find folks strolling through the town square or along the sidewalks, even after dark. If you're a stranger in town, don't be surprised when you pass residents on the street and they offer a friendly "hello." Punxsutawney is home to several civic and fraternal organizations; volunteerism abounds.
The area boasts a variety of quality educational opportunities for all ages. The public school system is comprised of six elementary schools, a middle school, and a high school. The school district covers 300 square miles and employs over 400 people. In recent years, the district has invested a substantial amount of money to renovate and update the high school complex, add a swimming pool to the middle school facility, and make improvements to each of the elementary buildings.
Faith-based education is important to the community and is offered by Punxsutawney Christian School and Saints Cosmas and Damian Catholic School.
Indiana University of Pennsylvania (IUP) at Punxsutawney offers students a unique living-learning environment where freshmen get a first-year experience on a small, newly renovated campus. After a successful freshman year, the students progress to the Indiana Campus to complete their degree. IUP's Academy of Culinary Arts is also located in Punxsutawney.
Technology education and skill training for students and adults are available at the Jefferson County-DuBois Area Vocational Technical School (Jeff Tech). Butler Community College also offers courses at Jeff Tech. A variety of adult education courses are available at Community Action, Inc. and the Punxsutawney Area Community Center.
Healthcare
At the forefront of health care in Punxsutawney is Punxsutawney Area Hospital, named twice as a "Top 100 Hospital" for its high quality care and superior cost efficiency.
The hospital, which in recent years added a 30,000 square-foot complex to house an enhanced rehabilitation unit and additional examination rooms, offers a full spectrum of health care services. For more information, visit www.pah.org.
Also available in the community are orthopaedics and sports medicine, dialysis, chiropractic care, massage therapy, alternative therapy providers, and a number of skilled nursing, assisted living, and personal care facilities.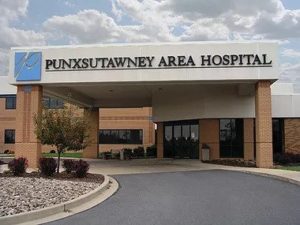 Economy
The economy, which had been primarily based on coal mining, is now reestablishing itself as industrial and service-based. With the lure of Punxsutawney Phil and the beauty of the area, tourism has become a rapidly growing trade.
If small town living appeals to you, Punxsutawney is just the place to call home. If you can't find what you're looking for, contact us and we'll be glad to help!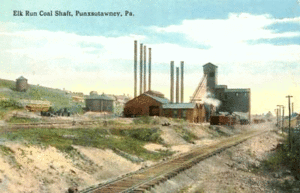 Contact
Phone
814-938-7700, ext 2
800-752-7445, (PHIL)
Fax
814-938-4303
Address
102 W. Mahoning Street. Punxsutawney, PA  15767