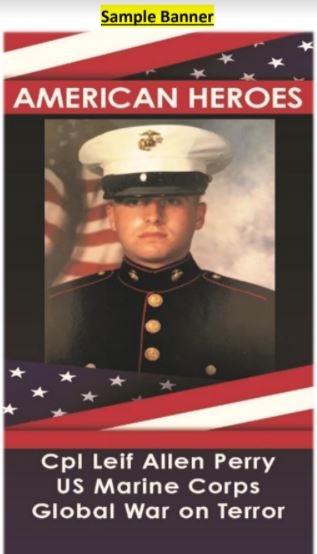 Update 9/25/20:
We have reached our maximum banners for Phase Two and are no longer accepting banner applications.
However we will continue taking Garden Flag orders for Phase I and II Banners, as well as American Hero Garden Flags without banners.
American Heroes Banners / Garden Flag Project
Second Phase Opens September 1, 2020 and
Closes October 31, 2020
HONORING OUR VETERANS
The Punxsutawney Area Chamber of Commerce, Inc. is pleased to offer a second phase of the American Heroes Banner/Garden Flag Project for the purpose of honoring our past and present military. Banners will be displayed on utility poles in the Punxsutawney Area. Garden flags with or without banners may be ordered, as well as additional garden flags for phase one banners. Banners will be displayed spring through fall.
Banner / Garden Flag Descriptions
The banner/garden flag will display the Veteran's picture, rank, name (20 characters maximum), branch of service, and service era.
Photos with or without uniform are acceptable and can be scanned at the Chamber.
Banner dimensions are 30" x 60"
Garden Flag dimensions are 12.5" x 18" 
Banner/garden flag information and application can be obtained at the Punxsutawney Chamber of Commerce, Inc.
or can be downloaded below.
Pricing
Banner cost is $300.00 each.
Garden Flag cost is $25.00 each with banner;
$30.00 without banner.
Photo editing cost an additional $75.00.
Businesses, clubs, and organizations can also purchase banner & garden flags.
Questions regarding banners and garden flags can be directed to the Chamber at (814) 938-7700
or via email to chamber@punxsutawney.com.
Note: banners may be occasionally taken down and when re-hung not placed at the same location.
"To those in uniform serving today and to those who served in the past, we honor you today and every day."